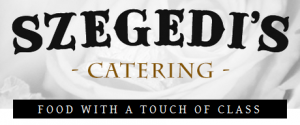 A local tradition since 1979, Szegedi's Catering offers a wide range of options from appetizers to desserts.  Should you choose them to cater your event, their family will take every care to be sure your meal is prepared and served according to the best standards of quality and professionalism.
With decades of combined experience and having catered almost every type of event throughout the Metro Detroit area, you can be sure that no matter what size or type of party you are having, they are here to serve you.
But there's even MORE that sets Szegedi's apart from the rest….
Not sure what to select from the long list of delicious food offered?  They can help!  When meeting with a representative, ask for details on how you can sample the food before making your decision.
They can also work with you to prepare items not listed on their menu, including ethnic favorites.  If they don't already have the recipe, they can work with yours!
Call Szegedi's Catering today at (313) 561-6288 for more information on how they can provide a wonderful meal for you at Sts. Peter & Paul Banquet Hall!